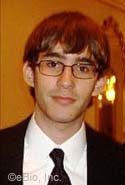 Harvard College, Class of 2012
Economics

Research Areas:

African American Studies, Socioeconomic History
Valentin Fernandez is a rising sophomore at Harvard College, where he is pursuing his A.B. in economics. The son of Cuban immigrants, he sits on the board of Harvard's Cuban American Undergraduate Student Association. Valentin is also an active member of A Drop in the Ocean, a student-run nonprofit that supports microfinance institutions in emerging markets. This summer, Valentin received a David Rockefeller Center for Latin American Studies grant to work as a research intern with Fundación Grameen in Buenos Aires, investigating the impact of credit in thirty low-income communities across Argentina.
A native of Miami Florida, Valentin, partnering with local governments and corporations, dedicated much of his time in high school to provide funding for service-learning projects in the Miami-Dade County public school system. He co-founded and served as President of Educating The World Of Tomorrow, an organization whose mission included mentoring recently arrived immigrant students from Latin America and the Caribbean to facilitate their rapid transition into the American educational system. Valentin has been recognized as a National Merit Scholar, a National AP Scholar, a National Hispanic Recognition Program Scholar, a Cornell Telluride Association Scholar, and a Duke Talent Identification Program Scholar.
"As an eBio Undergraduate Research Fellow, I will be exploring the biographies of early-twentieth-century African-American leaders. Beginning with

Who's Who in Colored America

, a reference series published from 1927 to 1950, I will analyze the census and biographical information and search for additional details pertaining to their subsequent lives. I will also identify the ancestors and descendants of these notable African-Americans, documenting their own biographical record with community, archival, and other primary sources. Once compiled, the information will serve as the basis for my inquiry into the demographic and socioeconomic developments that may have taken place within this subgroup of the African-American community over the past 150 years."
Harvard College, Class of 2011
Sociology

Research Areas:

Sociology, History, International Relations
Bora Fezga is a rising junior at Harvard College pursuing an A.B. degree in Sociology. She currently serves as an associate photography editor and news writer for Harvard's daily student newspaper The Harvard Crimson. She is also actively involved with the Harvard Undergraduate Women in Business program and the Harvard Albanian Club.
Having immigrated to the United States at the age of 12, Bora grew up as a child of two cultures: Albanian and American. She is passionate and involved in issues concerning her homeland and the Albanian Diaspora. She is spending this summer in Tirana, Albania's capital, working for the United Nations Development Programme and the Albanian government.
"As an eBio Undergraduate Research Fellow, I will be exploring the topic

The Albanian-American Dream

, which I personally proposed during the application process. My research will focus on the Albanian immigrant community in the United States during its initial settlement stages at the beginning of the 20th century. I will be conducting genealogical and biographical research for these pioneering Albanians, pursuing new archival sources in both Albania and the United States. The purpose is not only to assemble important historical information on Albanian immigration, a topic of particular appeal to me as a fellow immigrant, but also to analyze the progress and success of these immigrant families throughout the past century and ultimately discover whether these immigrant families realized the 'American Dream' of which they were originally in pursuit."
Harvard College, Class of 2011
Economics & East Asian Studies

Research Areas:

History, Sociology
Tana Jambaldorj is a rising junior at Harvard College, where she is pursuing an A.B. in Economics with a secondary degree in East Asian Studies. Originally from Ulaanbaatar, Mongolia, and the daughter of a Mongolian diplomat, she has lived in London, Washington D.C., and now in Canberra, Australia. Always a Mongolian at heart, she spent the summer before her senior year of high school translating Hermann Hesse's novel Siddhartha from English to Mongolian and had it successfully published. Tana serves as Advertising Manager at The Harvard Crimson.
This summer Tana received a David Rockefeller International Experience Grant to pursue an internship with The Canberra Times. Tana spent last summer in Shanghai after being awarded a position with the Harvard U.S.-China Relations Council Young Leaders Conference (HSYLC), designing and teaching a course in Chinese on Venture Capital to Chinese high school students. She co-founded the Harvard College Social Enterprise Project, a non-profit student organization that promotes social enterprise as an alternative career choice among college students worldwide. Tana has been recognized as a national AP scholar in both U.S History and European History. Last fall she was a contestant on the TV show Family Feud's College Tournament, where she and her Harvard teammates were runner-ups.
"As an eBio Undergraduate Research Fellow, I will be researching the membership history of the Ku Klux Klan, spanning from the organization's initial founding in 1865 to the present. I will be conducting both geneological and biographical research to identify the members and their descendants with an emphasis on primary archival sources. This information will be the basis of my analysis of how bigotry in America has evolved over the past 150 years, a period marked by huge social and political change."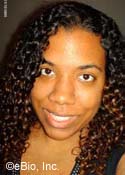 Harvard College, Class of 2011
History & Literature

Research Areas:

History, Sociology
Catherine Ntube, a rising junior at Harvard College, is currently pursuing an A.B. in History and Literature, with a focus on postcolonial Africa and South Asia. This year she will serve as Action Committee Chair of the Association of Black Harvard Women. She serves as a workshop facilitator to The Athena Conference for High School Girls, a gender empowerment conference organized by Harvard undergraduates for Boston-area youth.
In her sophomore year, Catherine was awarded the Oliver Dabney Prize for her accomplishments in the areas of History and Literature. She was designated as a National Achievement Scholar, a National Merit Scholar, and a Ron Brown Scholar.
"As an eBio Undergraduate Research Fellow, I will pursue my interest in progressive social movements to research the 1960's activist group Students for a Democratic Society (SDS). My research will include gathering membership, biographical, and genealogical data from archival sources, supplemented by surveys and interviews. I will track the evolution of SDS by examining its membership composition, alliances with other progressive organizations, and its legacy as played out in the subsequent lives of its members."
Harvard College, Class of 2010
Sociology

Research Areas:

Immigration, Cultural Studies, Sociology
Trang Pham is a rising senior at Harvard College, where she is pursuing her B.A. in Sociology, with a minor in Economics. As a Vietnamese immigrant who grew up in Boston, Trang is extremely involved in the Vietnamese American Community, teaching ESL to Vietnamese immigrants at the Boston Youth Enrichment program and serving as the Social Director of the Harvard Vietnamese Association.
Trang is particularly interested in immigration issues. Her most recent research has focused on Latin American migration and factors affecting remittance patterns. Trang's quantitative skills in analying large data sets to discern people's motives, passions, and concerns makes her especially qualified to tackle difficult sociological questions.
A graduate of Boston Latin High School, Trang dedicated most of her time to the Boston Youth Organizing Project, an organization designed to reduce teen gang violence. Trang also served as an intern for the Tieng Xanh Voice Organization, whose mission is to improve the safety and well-being of the Dorchester neighborhood. Trang was the youngest news intern at WFXT Fox 25 News in Boston, where she conducted exclusive interviews with Hilary Clinton among others. Trang has been recognized as a National AP Scholar, National Latin Exam Summa Cum Laude Scholar, High Honors Scholar in the National Greek Exam, Logan Trust Scholar and Open Gate Learson Scholar.
"As an eBio Undergraduate Research Fellow, I will be exploring the wave of Irish immigration from 1850 to 1870. The baseline data for my research will be advertisements placed in the

Boston Pilot

newspaper and recently chronicled in the 5-volume set,

The Search for the Missing Friends

, compiled by the New England Historic Genealogical Society. The advertisements reveal the atypical chaotic nature of this migration including the separation of many families. As the primary means of locating lost family, these ads provide interesting insights into the formation of early Irish-American communities, especially when matched with archival sources that tie them to specific individuals and their descendants. Once their modern descendants are traced, I hope to interview these descendants about their acculturation process and the efforts they have made to maintain their Irish heritage while becoming assimilated into American society over the past 160 years."
Harvard College, Class of 2010
Visual and Environmental Studies

Research Areas:

History, Sociology, Cartography, Genealogy
Kate Sweeney is a rising senior at Harvard College, where she is pursuing an A.B. in Visual and Environmental Studies with a focus in Animation. As an undergraduate she has served as assistant cataloger of antiquarian maps at the Harvard Map Collection.
A native of Amityville, New York, Kate authored a book on the history of Amityville that was subsequently published by the Amityville Historical Society in 2006. As a result of her research for this book she developed an academic interest in integrating multiple archival sources to model community development by tracking the genealogy of land subdivisions and occupancy. These sources included archival maps, sequential census records, and town surveys.
"As an eBio Undergraduate Research Fellow, I will be researching methods to establish the genealogy of propery and home occupancy in the United States from original plats to modern-day subdivisions. Since many present-day urban and suburban communities gradually developed from more sparsely-populated parcels of land, my analysis will track the division of a given home address into multiple, smaller residential units over time, up to the area's present addresses and occupants. Numerous archival and digital resources will be accessed and matched, including U.S census data, local press, real estate records, church and club membership records, and other historical documents. State of the art tools, including GPS and digital imagery, will be employed to develop meaningful methods of representing this data which will make this data accessible to a wide variety of research applications."
©Copyright 2009, eBio™, Inc.